Do graphics really matter? From an ideological point of view, definitely not. In reality? Sadly yes. Anyone who thinks that games have only improved aesthetically over the years, whilst the core mechanics have stayed the same, is kidding themselves. Just looking at the plethora of genres and sub-genres within the industry proves this, and even seemingly simplistic game types like the FPS undergo serious alterations and augmentations with each generation. And all of this puts me in a slightly difficult position when it comes to looking at Mount & Blade: Warband.
Warband is perhaps the closest example of a gaming industry equivalent to the B-Movie. The budget was small, the production values are low and this stand-alone expansion pack, which allegedly has been given a graphical upgrade over the original 2008 game, looks like it belongs to 10 year old technology. I will admit that it is not typically a game I would choose to play, solely because despite my conviction that graphics do not make a game, I'm still a bit of a pixel snob. High budget RPGs like Fallout 3 or any Bioware title are more my bag. But in one respect Warband walks all over these titles. And that respect is the completely insane level of open-endedness offered in its story.
The branching storyline of Warband makes other seemingly non-linear games look like feeble, restrictive twigs compared to its might oak of infinite choice. At points it can feel like you're playing an old-school text adventure with the frequently wordy expositional dialogue boxes and multiple intertwining plot paths that you can take. On the up side the level of experience customisation that this affords cannot be matched by any other mainstream title, because recording the dialogue would take up billions of gigabytes usually reserved for megatextures, or whatever the latest graphical fad is. On the down side, Warband's story delivery system feels archaic, and you will have to use your imagination. Like if you were reading a book or something.
Your imagination will also come into play when viewing the obviously aging graphics engine, but ultimately the disparity in visual fidelity between this and something like Oblivion (which itself looks tired after four years) will quickly be forgotten. If you immerse yourself in the game world for twenty minutes, the robotic animations and limited sound bank will be no more noticeable than someone drilling in the street outside. You'll block it out. Mostly. And you'll only be annoyed by it if something distracts you or breaks the spell cast over you by the game.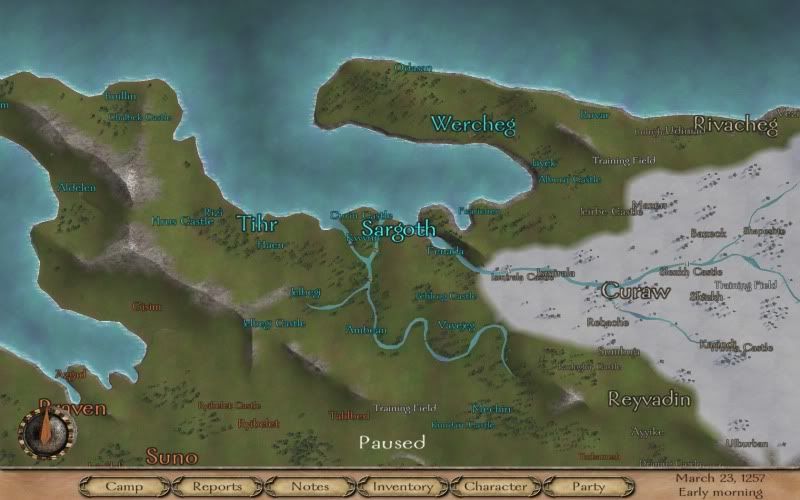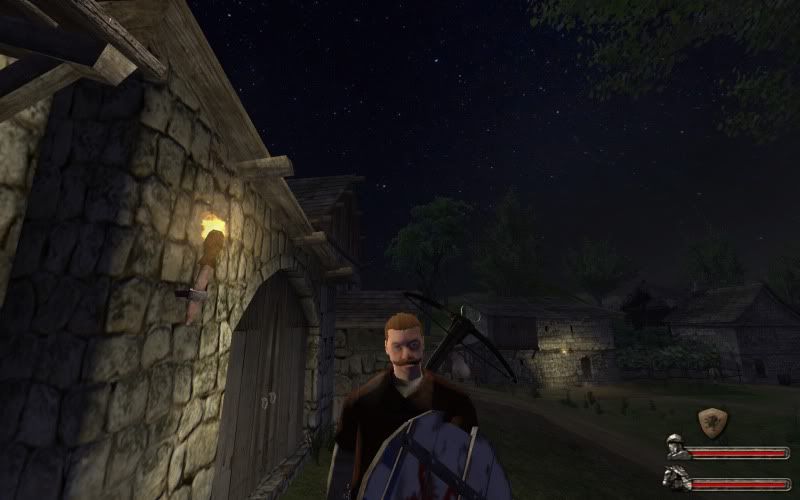 Speaking of spells, there is a notable lack of them in Warband, as in the original M&B. Kicking out the hocus-pocus is fine from my point of view, because my play style in RPGs which do feature magic usually means I resort to begrudgingly powering up one healing spell while my other skills points are funnelled into sneaking, strength, or being a charming cad. With no fantasy, Warband is basically selling itself as a historical RPG. The combat is key to making this work, and fans of the series will know that this is a strong point. But the feedback you get from hacking, slashing and shooting still leaves a lot to be desired. I longed for the tangible violence of Dark Messiah of Might and Magic.
The big addition to Warband is a multiplayer element which will definitely please fans of the original. In essence I am in favour of MMORPGs, but in practice I find that they eat too much of your life. Thankfully Warband's multiplayer is focused on combat between big groups of up to 64 players in tropes of gaming like deathmatch and variations on this formula. There are different classes and factions to choose from, but these are simplified from the main singleplayer quest and there is not a whole lot of depth here. If you like the combat, that's fine, but the deep singleplayer experience is not replicated online.
I've had trouble reacting to Mount & Blade: Warband, because it's like trying to eat a week old cheesecake. It's still got all of the elements that make a cheesecake great, but it just that hint of staleness that doesn't sit right. And then you remember that there are loads of high definition cheesecakes in the fridge beside it. Some people will completely fall for this game, but others will long for a bit more corporate sheen. I personally wanted a bit of linearity, because choice scares me.
Buy at: